SERVICES
Simulation
hydrograv professionally simulates flow and transport processes for you:
Validation of model approaches by measurements
deterministic analyses by reliable indicators
Increased efficiency through optimisation considering the economic feasibility
We are the experts, inter alia on the following topics:
Settling tanks, for example grit chambers, primary and secondary clarifiers, thickeners
Activeted sludge tanks, for example denitrification, nitrification, agitators, ventilation
determination of oxygen transfer parameters like SOTE, KLa or SSOTR according to DWA-M 209
Digesters
Fourth purification stage, for example activated carbon reactor, ozone reactor incl. reaction kinetics
Pumping stations, for example screw pumps

Pipeline systems, for example valves, piping, branches
Water supply systems, for example reservoirs (with the determination of water age), filter nozzles
individual facilities or applications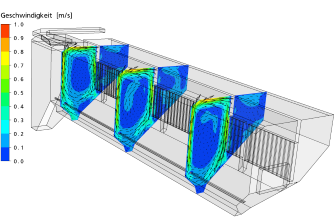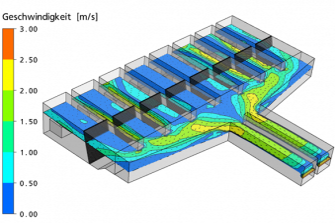 Flow simulations as an efficient tool for the planning engineer:
Flow simulations (CFD) are now standard development tools for all flowed through constructions and components. Today CFD is simply part of modern engineering planning. Even in the water management.
With the knowledge of the appropriate model approaches flow processes can be simulated accurately in constructions of water supply and in the wastewater treatment.
Some of the leading simulation approaches in the water management were developed by hydrograv!
Take advantage of the opportunities offered by CFD.
Measurements and simulations from one source – hydrograv gladly assists you!
Have we piqued your interest?

You can download our information brochure below or contact us directly!